Finding fufu: Australia's growing appetite for West African food | Australian food and drink
In Australian cities, Ethiopian and Sudanese restaurants have introduced diners to injera, that fermented flatbread wonder; while home cooks' growing familiarity with Moroccan and Egyptian cuisine means ras el hanout has its place in our globalized pantries. These food habits reflect the waves of migration over the decades – historically, Australians with African ancestry are mostly from South Africa, Zimbabwe, Egypt, Somalia, Sudan and South Sudan.
But if new Ghanaian, Nigerian and Cameroonian food businesses are a barometer for demographic change, the West African community and diaspora are growing, and customers are actively seeking out its cuisine and ingredients. This is also supported by the latest census data – in five years, the number of people in Australia who were born in Nigeria increased by about 50%, from 8,493 people in 2016 to 12,883 in 2021.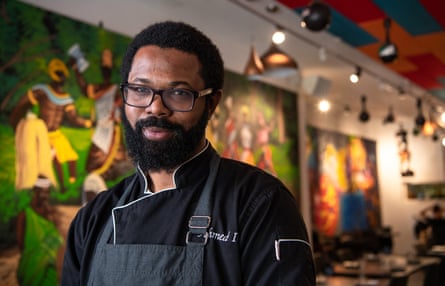 The main ingredients in West African food are rice, cassava, plantain and cocoyam (taro), the Ghanaian chef-owner of Melbourne's Akwaaba restaurant, Ahmed Inusah, says. But each country or even household might cook it differently. "I would say West African food is carb- and meat-based and it has earthy flavours. Palm oil is also important. We cook a lot with it," he says. Unrefined palm oil has a rich, earthy, slightly nutty taste and gives dishes a red-gold tint.
The Cameroonian owner and chef of Vola Foods in Melbourne,
…
Read More