'Surprisingly tasty': putting Neanderthal cooking to the test | Neanderthals
Pity the Neanderthal chef. With only rudimentary cooking implements – a hot rock, some scraps of animal skin, perhaps a favored prodding stick, plus stones for pounding, cutting, scraping and grinding – their hands must have been a scarred mess, and the woodsmoke from the hearth must have played havoc with their eyes. However, according to research published this week, they did at least have access to a smörgåsbord of ingredients.
Gone is the stereotype of Neanderthals tearing into raw tubers or gnawing on a leg of roasted animal meat. Microscopic analysis of ancient food scraps unearthed from a hearth in Shanidar Cave, in Iraq, has provided the first real indication of complex cooking – and thus of food culture – among Neanderthals.
So, what did a Neanderthal meal taste like, and how easy was it to prepare? On a rainy afternoon in urban Bristol, I decided to find out.
According to Dr Ceren Kabukcu, of the University of Liverpool, who carried out the analysis, a typical dish would probably have contained a pounded pulp of pulses, nuts and grass seeds, bound together with water and flavored with bitter tannins from the seed coats of pulses such as beans or peas, and the sharp taste of wild mustard.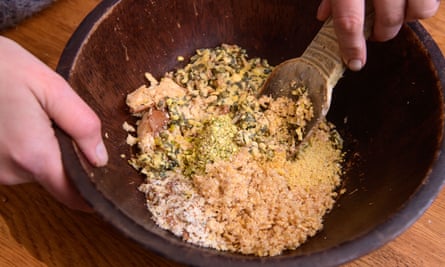 Gathering such ingredients must have been time-consuming. "There are lots of species out at Shanidar in the savannah-type vegetation, and I'd guess the Neanderthals would have
…
Read More